Described as "electrifying" and "full of great energy" Cello Brothers are redefining musical boundaries by combing traditional cello with contemporary electronic music. As the youngest ambassadors of Yamaha Music Poland, Cello Brothers are also proud to be performing artists of Yamaha Music Europe. In addition to their fantastic performances, Cello Brothers are also known for their creative arrangements of today's most popular songs.  Together with Margaret (2017 Swedish Eurovision Finalist), they performed at the "55th Festival of The Polish Song" with Eurovision song "In My Cabana" and their version of the most popular Polish song, "Byle Jak."  They also performed with Lanberry at the most prestigious awards ceremony in Poland – "Fryderyki 2019".  Besides they were invited as special guests by the legend of Polish rock music, Jan Borysewicz, for their Lady Pank LP1 tour in 2018. Their performances also impressed Kuba Wojewodzki, the king of the Polish TV, who invited them for a special event where they played music from programs on the TVN station. They also collaborated with the world star – Arash, who asked the duo to make their own interpretations of his hits including "Dooset Daram" and "The Night In Dubai".  Cello Brothers concerts have been well received by audience members and critics alike, which can be seen through their sold out concerts and active engagement with fans across many social media platforms.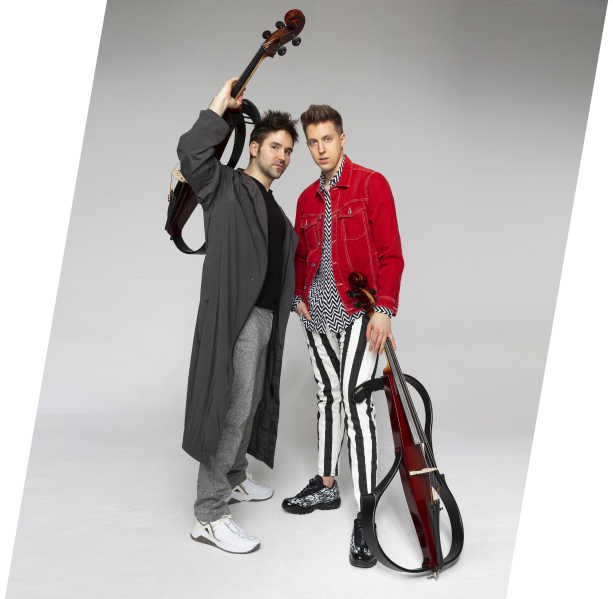 "Jakub Dubik belongs to the group of the most talented Polish cellists of the young generation."
prof. Tomasz Strahl
Warsaw 2016
"The artist's achievements and artistic plans give a strong argument for claims that Jakub Dubik will bring renown to Poland."
Jerzy Maksymiuk, Janusz Olejniczak
Warsaw 2016
Jakub Dubik is a student of the Fryderyk Chopin University of Music in Warsaw in the class of the outstanding Polish educator, Professor Tomasz Strahl. Despite his young age (23), he has performed in such prestigious halls as: Weill Hall at Carnegie Hall in New York, the Chamber Music Hall at the Berlin Philharmonic, Brahms Saal in Musikverein in Vienna, and in Poland at the W. Lutosławski Polish Radio studio in Warsaw, at the Royal Castle, at Royal Łazienki Park in Warsaw, at the European Krzysztof Penderecki Center in Lusławice, among others.
The cellist is a laureate of the international competition Irvine Young Concert Artists 2015 in New York (2nd prize), winner of the 2nd prize at the International Tribune of Young Performers in 2015 in Ljubljana, winner of the 1st prize and concert in Musikverein (Vienna Philharmonic Hall) at GPV 2015 in Vienna.
The cellist has participated in festivals, including "Masters of Polish Violinism" at the Zielona Góra Philharmonic, Talent Week at Ignacy Paderewski's Manor in Tarnów, Bravo Maestro in Kąśna Dolna, and the Krystyna Jamroz Busko Zdrój Festival. He has performed as a soloist with orchestras at home and abroad. Conductors he had the pleasure to work with include:
Claude Villaret (Thailand Philharmonic Orchestra, Bangkok), En Shao (RTV Slovenia Symphony Orchestra, Ljubljana), Sławomir Chrzanowski (Zabrze Philharmonic), Piotr Borkowski (Symphony Orchestra of India, Mumbai), Marcin Sompoliński ("Collegium F" Poznań Orchestra), Bartosz Żurakowski (Opole Philharmonic), Maciej Koczur (laureate of conducting competitions). He perfected his artistic skills under the direction of such personalities as Romain Garioud, Claudio Bohórquez, Kazimierz Michalik, Dominik Połoński, Stanisław Firlej, Roman Jabłoński, Bartosz Koziak, Marcin Zdunik, Jelena Očić-Flaksman, Hendrik Blumenroth and Miriam Roycroft.
He made a recording for Radio Slovenija (program 3. – Ars). The cellist has been invited to record an album of Polish music for the Warner Music label, together with the outstanding musicians: violinist Janusz Wawrowski and pianist Grzegorz Skrobiński.
In May 2018, as a member of the piano trio, together with Janusz Wawrowski and Grzegorz Skrobiński, he participated in the first concert in the history of post-war Poland on a Stradivarius violin obtained by a private investor for the 100th anniversary of regaining independence. For outstanding achievements in the field of culture, he was nominated by Polish Television for the Format of Culture award.
He was included in the scholarship program of the National Children's Fund, was a scholarship holder of the Mayor of Opole, the Minister of Culture and National Heritage, the ProCello Foundation, as well as a laureate of the Ministry of Culture and National Heritage "Young Poland". For artistic achievements in 2015, he was the laureate of the cultural award of the Mayor of Opole for disseminating culture in Poland and abroad.
The cellist is co-creator of the duo "Cello Brothers®" where, together with cellist Mikołaj Błaszczyk, he develops and performs well-known pieces of classical and popular music arranged for two cellos and an electronic layer.
Mikołaj Błaszczyk, born in Warsaw, is a 23-year-old cellist, currently studying at the Danish Royal Academy of Music in Copenhagen in the class of professors: Toke Moldrupa and Morten Zeuthen.
He is a laureate of national and international competitions. The most important achievements include:
The Idyllwild Summer Arts Academy Scholarship (California) in 2011 and in 2012, 2nd place at the 24th FLAME Competition in Paris 2013, 1st place at the 5th Sochaczewski Young Cellist Competition 2013, 1st place at the 3rd National Harp Duo Competition, 3rd place at the 10th International Juliusz Zarębski Music Competition
During his school years, Mikołaj successfully played the premieres of: Piotr Moss – Duettino no. 2, Bolesław Blaszczyka – Mad Trip, Monika Dalach – Stuck in basement, cello and live electronics, Mikołaj Błaszczyk – Trio.
He also took part in masterclasses led by Niels Ullner, Tomasz Strahl, Andrzej Zieliński, Hannu Kiski, LarsInge Bjärlestam, Ursula Smith, Jacob Shaw, Francesca Vicari, Pierluigi Camicia, Leonardo Altino, Larry Livingstone, and Sey Ann.
In 2015, he began studying at The Danish National Conservatory of Music in Odense, in the class of Professor Niels Ullner. Developing his cello skills, Mikołaj toured as a soloist, chamber musician and member of orchestras throughout Denmark.
At that time, he also started composing, arranging and creating electronic music.
In October and November 2016, together with the Italian pianist Nicola Possenti, he created a duo which performed in Rome (including at the Polish Institute – Concert with works by Polish Composers on the occasion of November 11th). At the same time, Mikołaj also developed as an arranger and composer, writing arrangements for an orchestra of 30 cellos, the Blascello cello quartet and cello duos, and also four original pieces for cello solo and trio for cello, piano, piano, and horn for the piano, which was played on May 28 and the French horn. at the ODEON Concert Hall in Odense (Denmark)
In the same month, Mikołaj together with the Polish cellist Jakub Dubik created the duo "Cello Brothers". The duo's career began to develop rapidly and the band has played dozens of concerts in Poland and abroad.
Despite his rapidly growing career, Mikołaj continued his studies in Copenhagen, where he quickly became one of the best cello students.